So you've decided you want to sell shirts online. Here's the good news: It's never been easier to break into the graphic t-shirt business. Whether you want to sell one special design or create your own brand, the time is now. Print-on-demand t-shirt services make it easier than ever to get started selling t-shirts. You can literally design a simple shirt today with nothing but words on it that can be putting money in your bank account in a few days.
If you're not a designer, that's OK. There are a few basic specs you need to know, and you're good to go. You can invest some time later in learning more, or perhaps more practically, find a good freelance designer.
The Many Ways to Sell Shirts Online
One of the most exciting things about this industry is that there are many ways to sell shirts online. You don't have to have an online store if you lack the skills to build one. That said, if you do want one, multiple tools and platforms make it easy. What are the different ways to sell shirts online? The three most popular are print-on-demand, online marketplaces, and campaign sites.
Print-on-demand to sell shirts online
When you sell shirts online via print-on-demand (POD), you are bypassing the time and money investment, not to mention the risk, of opening your own t-shirt store. You don't pay for the product until after you've sold it. Furthermore, you don't keep inventory on hand. When a customer places an order, it goes directly to the printer you choose, who prints and ships it from there. If you build a store with Shopify, you can even have your business name and logo on shipments to customers. That is called "white-label shipping."
Print-on-demand sites that don't require you to build a website are Redbubble, Zazzle, Spreadshirt, CafePress, and more.
Online marketplaces to sell shirts online
If you want to sell in online marketplaces, you may be thinking of venues like Amazon and Etsy. We have links within this article to direct you to more information about selling in online marketplaces. Etsy is the easiest way to get started with selling in marketplaces, and Amazon having significantly more barriers.
Campaign sites to sell shirts online
One of the most popular campaign sites to sell shirts online is Teespring. It's completely free to use. If you don't have a design to upload, they even have a nifty little tool that lets you design right on their site. Teespring makes money when you make a sale. Once you make a sale, you click a button to start the print, and a couple of days later, there's money in your Paypal account. It's that easy.
A disadvantage to selling on sites like Teespring is that you may not have access to customer data. That means that it's hard to reach out to your customers independent of Teespring. Also, it's harder to build a brand.
10 Tips to Help You Sell Shirts Online
We've pulled together some great tips on how to sell shirts online. However, keep in mind that you're not just limited to shirts. With print-on-demand, you can easily sell hats, mugs, posters, canvas wall art, phone cases, swimsuits, leggings, and more. There are dozens of items you can sell via print-on-demand and most of these tips apply to those items as well.
1. First things first: Understand copyright and trademark laws
The first thing you need to understand before you sell shirts online is that you have to be careful with copyrights and trademarks. For example, you can't take the Nike "swoosh" and make a t-shirt with it. Likewise, you can't make a t-shirt with Beyonce's name and likeness. Brands are very protective of their trademarks and copyrights.
First, copyright and trademark are two different things. Trademarks refer to symbols, names, and terms. An example would be the Nike "swoosh" and the Nike name. Copyrights are used to protect original creative works. That can include movies, paintings, song lyrics, books, photos, drawings, and web content.
The best strategy is to create your own original designs. In the time it takes to copy and recreate someone else's design, you could have designed something yourself or hired a decent freelance designer.
2. Identify your niche
Finding one solid niche and going with it is more effective than selling every design you can think of. For example, if you think you'd like to sell shirts online to animal lovers, you'll do better by narrowing it down to a single type of animal. The reason for this is marketing. It's much easier to market to one specific segment than to every single person in the world who likes animals. For example, cat lovers and dog lovers both love pets, but they likely have a stronger passion for one over the other.
You also want to think about your store and the people who will come to it. For example, if a cat lover is looking for a t-shirt and comes to your store, they're going to get lost and distracted if they have to wade through shirts that have dogs, ferrets, birds, etc.
The best way to find a niche that works for you is to zone in on something you're personally passionate about. It's called "living inside the niche." You're going to be way more in tune with what a cat lover is looking for if you're also a cat lover.
3. Choose your selling platform wisely
There are many different platforms from which to sell shirts online. Choosing the right platform is essential to selling success. Do you want your own online store? Or are you happy with selling from a platform like Teespring?
Shopify
If you want to own your customer data so that you can build a business and brand of your own, going with Shopify and a print-on-demand partner is your best bet. Once you've built your store, which is fairly straightforward, Shopify handles all of the nuts and bolts for you. If you are going to sell shirts on Shopify, you'll need to go with a print-on-demand partner like Printful, GearLaunch, or PrintAura.
Here is a comprehensive video by one of the top e-commerce gurus who has made millions of dollars selling t-shirts online. He walks you through the step-by-step process of opening a Shopify store.
Etsy
Etsy is one of the largest marketplaces in the world. If you're going to sell t-shirts on Etsy, you need to choose a printer that supports Etsy. Some of the popular POD companies that work seamlessly with Etsy are Printful, PrintAura, and Gooten.
Selling shirts on Amazon
Selling on Amazon is great if you can do it. First, you need to get an Amazon seller account. Then, you need to install an app like Printful that integrates with Amazon. Also, if you Nationwide Barcode, you'll need to have a UPC and barcode for every item and variation you sell. You can buy barcodes at Nationwide Barcode legally and inexpensively.
Watch this video that goes into some detail about what's involved with selling shirts online with Amazon. Scroll down below the video to learn how to sell on Amazon more easily with Amazon's in-house print-on-demand option.
Amazon Merch
An alternative to jumping through all the hoops to sell print-on-demand shirts on Amazon is Amazon's own print-on-demand service: Amazon Merch. Merch works similarly to Teespring. You simply upload your original design, click through a few options, and bam, your listing is live on Amazon. To sell on Merch, you have to request an invitation, but approval is generally quick.
Profit margins are smaller on Amazon Merch because the competition is stiff. Furthermore, there are numerous complaints about the quality of Merch t-shirts, and sizes and colors are limited. You can only upload one design per day on Merch until you reach a higher selling threshold. Here is a short video that explains Merch.
https://www.youtube.com/watch?v=w-iBj8AGLQk
4. Find affordable designers
You don't have to be an artist or a designer yourself to sell shirts online. Freelance designers from all over the world are vying to design for you. The best place to find a good designer is on Upwork. You don't have to have a lot of money up front. You can create a free Upwork account and put a job posting up. Then, buy one design at a time until you've got enough money to buy more.
Additionally, you can find good designers on Fiverr, a marketplace where prices start at $5. If you're buying designs via Fiverr, make sure you're getting original designs.
Whether you use Fiverr or Upwork, make sure your designer is savvy on U.S. trademark and copyright laws.
5. Sell the colors that sell
Wholesale t-shirt company The Adair Group says that the top-selling t-shirt colors are white, black, navy, heather grey, red, and royal blue. There is a market for other colors, but it's a good idea to follow the advice of the experts and put your time and resources into designs that will do well on those six colors. Black t-shirt sales surpass white in most niches.
One study showed that offering too many colors can cause choice overload in customers. In essence, you overwhelm them, and they're less likely to buy. Keep this in mind and consider just going with the ones that we already know are most popular.
6. Use good mockups
You want customers to see themselves wearing your shirt. Don't just share an image of your design. There are tons of free mockup tools online, or mockups you can use if you have some basic Photoshop skills. Most of the print-on-demand companies have mockup tools built in. Also, you can find free and affordable mockups on sites like Mockup World. Placeit is an affordable site that does nothing but photo and video mockups. Use either a good quality mockup of the shirt or an image of a model wearing your shirt.
7. Order samples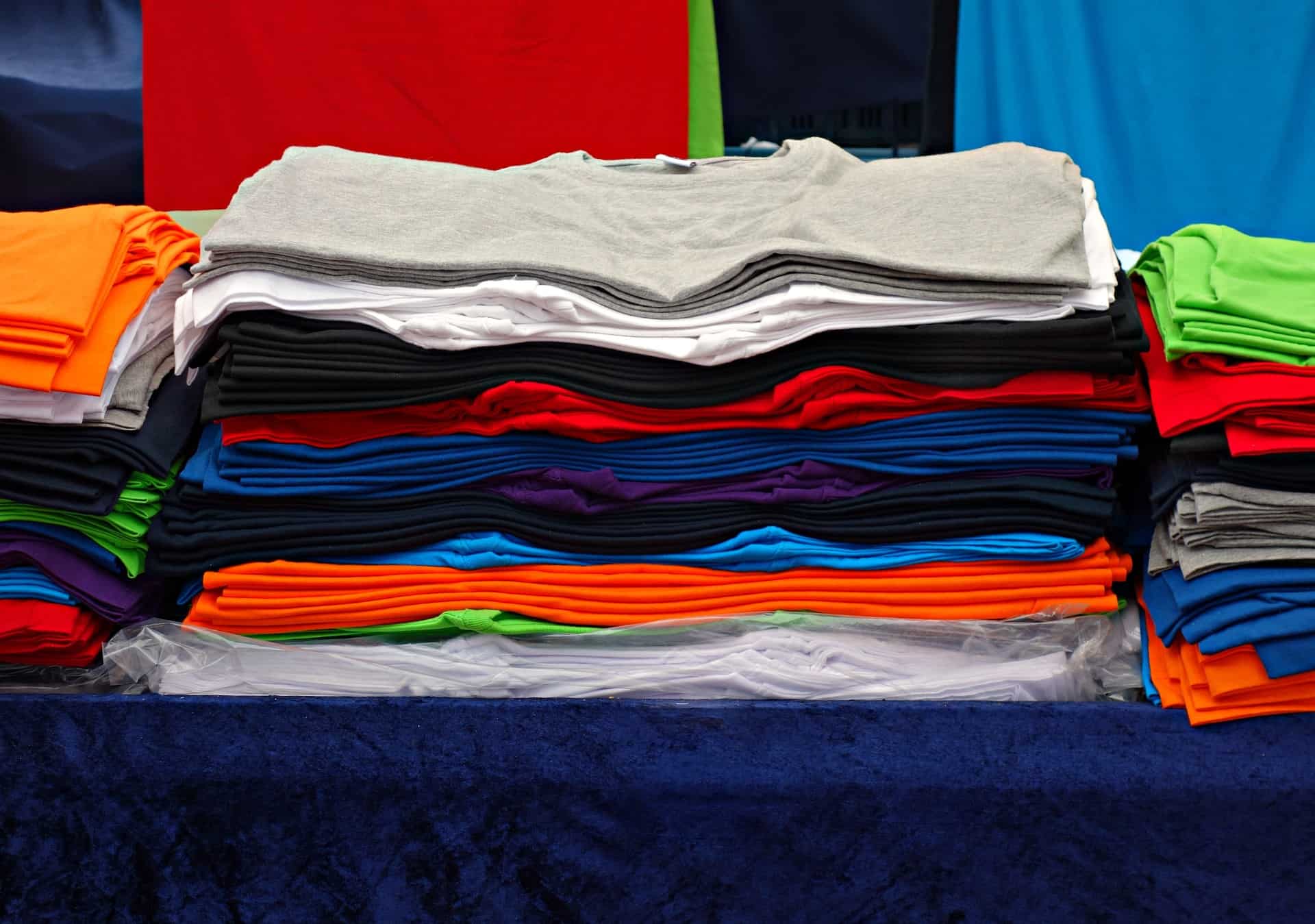 You need to buy one or more of your shirts so that you're aware of the quality of the t-shirt and the print design. You'll get it at cost, so it's like getting a great bargain on a shirt. Don't skip this step. A bunch of unhappy customers is no fun. Furthermore, if you have a few of your designs on hand, you can take photos of them and yourself (or a model) wearing them.
8. Learn as much as you can about marketing
So you've got your beautiful store sitting out there ready to sell shirts online, or your designs on Teespring or Amazon Merch. Great! But wait -- how are you going to get buyers to your merchandise? You need to learn about marketing.
First of all, create some social media accounts for your business. Instagram and Facebook are both great for this. Once you have that in place, you can start advertising.
Facebook ads are a great way to drive buyers to your merchandise. You can target your ads directly to people who are likely to buy. For example, if you sell cat t-shirts, you can target cat lovers. Facebook ads are pretty cheap. You can spend as little as $1 per day.
Furthermore, you don't need money up front. Facebook starts you out with a small credit amount (and they don't check your credit). However, learn as much as you can about how Facebook ads work. The cost can build up pretty quickly if you're not watching them closely. Here is an excellent video on Facebook ads.
Google ads are also effective for driving traffic. There's a higher up-front monetary investment than there is with Facebook ads, but once you have your sales rolling in, Google Ads are a worthwhile investment.
9. Stay on top of the industry
There are three primary ways to stay on top of what's going on in the t-shirt industry -- forums, Facebook groups, and informational articles. You need to find groups, forums, and websites for your niche. Furthermore, you need to find resources for the t-shirt industry as a whole and information that will help you with marketing.
In our cat t-shirts example, it would be helpful for you to join Facebook groups or internet forums for cat lovers so that you can stay on top of what cat lovers are talking about. You'll see memes that give you good ideas, and you can even ask for guidance on ideas for cat t-shirts. Likewise, forums has forums for most niches. You're there to glean information, not to spam them, and doing so could get you kicked out. The one exception will be if you've cleared it with a group admin first.
Also, several of the print-on-demand companies have helpful blogs that discuss trends in the industry.
10. Fail often (hint: it's a numbers game)
When it comes to selling t-shirts online, it's a numbers game. Most of us aren't Michaelangelo. We may not come up with a winning idea with our first t-shirt, or even in our first dozen t-shirts. However, if you keep trying and learning, you have a better chance of creating a winner. Think of it like this. You're not in the business of winning at t-shirt selling. You're in the business of losing at t-shirt selling. What this means is that for every 10 t-shirts you design, 1 might be a hit. Tenacity is the key.
The Quick and Dirty Conclusion
If you've decided to sell shirts online, you're on the path to entrepreneurship. T-shirts sell, and you can get in on the action. Be a continuous learner who stays on top of the industry, and you'll have a greater chance of success. Happy selling!