Halloween Heat Transfers: Get The Looks They Want Now
We strive to guide you through the art of customization, and now is the perfect time to take a detailed look at Halloween heat transfers. Halloween offers the ideal excuse to jazz up your T-shirts or add a touch of horror to your accessories. Such a versatile craft is the perfect thing to let you flex those Halloween muscles.
With such a vast selection of products on the market, it may feel a little daunting when it comes to choosing your Halloween heat transfers. However, we have already done the hard work for you and scoured the netherworld to bring you a host of horrific ideas. So get out that cauldron and come with us as we explore the ghoulish world of Halloween heat transfers!
The Spooky World of Halloween Heat Transfers
Whether you want ready-made Halloween heat transfers or downloadable files to cut yourself, there remains a vast selection of material out there from which to choose.
If you have a cutting machine, then Halloween heat transfers in the form of SVG files may prove the perfect solution. Downloading the SVG files offers versatility because you may change the size and colors to suit your specific needs.
Alternatively, there is an abundant supply of ready-made Halloween heat transfers for speed and convenience. As such, we have compiled a list of some fantastic resources to help you celebrate this freaky day.
We All Like Free Downloads
Halloween may prove an expensive time of year as it is, what with decorations, treats, and costumes to consider. However, your Halloween heat transfers don't necessarily have to cost you a limb. Consequently, we have found some free downloads to satisfy your blood-sucking cravings.
Related Reading: The Best Software For T-Shirt Design
Jocole Sewing Patterns
Jocole sewing patterns offer a selection of free SVG files for you to download and customize yourself. Choose from three funky designs, including a goofy pumpkin, a "got candy" banner, and a classic skull and crossbones. All three designs suit both children and adult audiences.
Cut That Design
Cut That Design has a fantastic array of Halloween heat transfer designs for you to download, and they are all free. You will find numerous whimsical images and phrases suitable for both adults and children. Because they are digital files, you may also customize them to fit your project.
Inkipink
You will find an extensive selection of free Halloween heat transfer files on Inkipink. This a fantastic resource because of the sheer volume of choice available for adults and children.
For the kids
Boo is a cute little ghost with pink bow details and the word boo. Fabulous for our scary little girls.
A cute baby pumpkin, suitable for girls or boys, proves a bold, colorful choice. The colors pop out of the design for a contemporary take on a traditional motif.
"Give me all your candy" is an extremely whimsical design with a comical grim reaper suitable for girls and boys. The reaper holds his famous scythe and has a funny look on his face.
Don't forget the adults
For the mums, there is a "Momster" file with blood dripping from the letters. The play on words is amusing, and I can envisage many a mum wearing the design with terrible glee.
For the dads, there is a T-shirt design that makes him out to be a blood-sucker. The most famous Vampire of them all, Dracula, drips proudly from the design. That will teach you to mess with daddy Dracula.
For those adults with a cheeky sense of humor, there is the "If you've got it, Haunt it" SVG file. It's an imaginative play on words that every adult will appreciate.
Ready-made Halloween Heat Transfers
If you don't have a cutting machine or feel short of time, then ready-made Halloween heat transfers offer the perfect solution. Even better, they will save you tons of time.
There is something out there to suit every taste, children and adult alike. However, we have chosen some perfect examples for you to explore.
A trip down the Amazon
Amazon has a great selection of Halloween heat transfers that offer excellent versatility and value.
Check Price
For the children, the Artem Halloween patches provide a selection of striking designs suitable for the younger ghouls among us. The bundle includes pumpkins, sugar skulls, bats, witches, and all manner of cakes in bright colors that will appeal to the little devils.
Consequently, this versatile pack allows you to decorate several articles from one kit for both girls and boys.
Check Price
Adults may appreciate the gory bloodied hand design that rests against a blood-red spider's web background. The design is by 3D Rose and provides a very striking, if unsettling image. It delivers the perfect horror image for Halloween!
Scrappychicks On Vinyl
Scrappychicks On Vinyl has a ready-made Halloween heat transfer that may appeal to the horror geek in us all. The 'horraholic' design features some of horror's most iconic characters transformed into cute cartoon caricatures. The images include Freddy, Jason Voorhees, and Pinhead.
As an adult, I would undoubtedly wear the design, and our little terrors are sure to love it as well. This really is an excellent design for all ages!
Pro World
Pro World has a vast range of Halloween heat transfers, and they also give you the choice of buying multiples of the same design at a discounted price. The skeleton pumpkin mouth is especially dramatic with the eyes and the mouth of the pumpkins filled with ghostly orange skulls.
A particularly effective design comes in the form of a group of very realistic skulls hanging from a bunch of chains. However, there is humor here, too, with a mummy partially unwrapped by a seagull to reveal his deadly behind.
Wills Creek Transfers
Wills Creek Transfers offers an excellent Halloween heat transfer for fans of the film Hocus Pocus, with the three witches sitting down. The witty phrase reads, "You can't sit with us witches." As a big fan of the film, I can truly appreciate the humor behind this fantastic design.
You can't have Halloween without Halloween
If you like your Halloween heat transfers on the traditional side, then Vegas Big and Tall has the answer in the form of a terrifying Michael Meyers heat transfer. The image is a close up of the famous mask and remains genuinely spooky.
Downloadable Halloween Heat Transfer Designs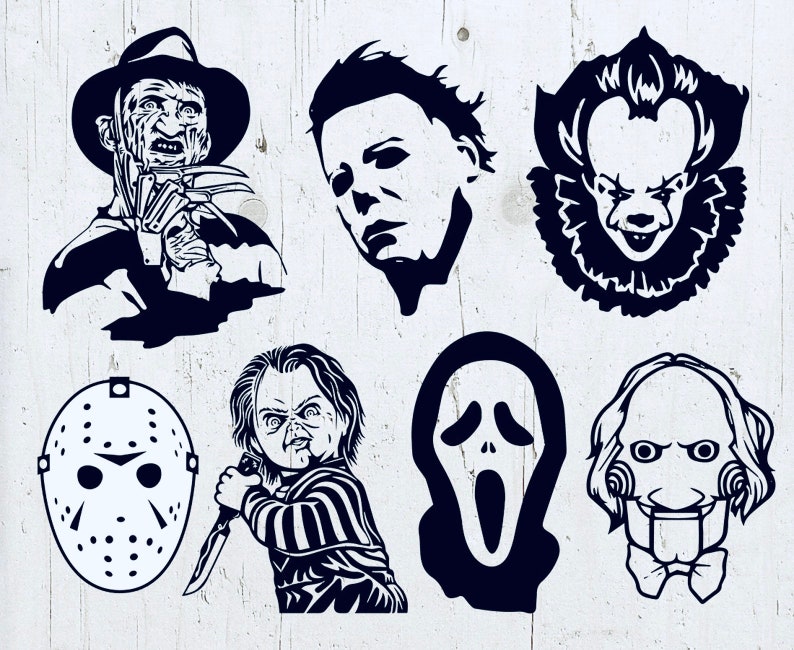 Etsy remains a fantastic resource for all things crafty, and they have a vast array of ready-made Halloween heat transfers as well as SVG files for you to download. If you have a cutting machine, then the designs provide the perfect opportunity for you to customize your creations.
Classic Horror Fiends
One particular favorite of mine is the "Friends" download, which features famous film monsters. The scream mask, Freddy, Chucky, and Pennywise all feature in a spooky take on the Friend's television series titles.
A selection of horror icons entitled 'Horror Movie Killers' allows you to download a bundle of SVG files to cut and size yourself. The images are in silhouette and prove very effective. The bundle includes Pennywise, Jason, Mike Meyers, Scream, Freddy Krueger, Chucky, and Jigsaw.
Why not build your very own pumpkin with a selection of cute, funny faces to customize your own Jack O Lantern? With 18 faces to choose from and 4 styles of pumpkin, you could build a Halloween army.
If you feel a little cheeky, then why not spice up your Halloween heat transfer crafting with a pair of skeleton hands placed around your chest. It may undoubtedly raise an eyebrow or two but won't fail to make you smile.
Have Fun with Your Halloween Heat Transfers
We live in a time of great uncertainty, and sometimes we just need to have a bit of fun to lighten the mood. Whether it be for a party, trick or treating, or just to wear around the house, using Halloween heat transfers is a great way to celebrate the season.
If you own a cutting machine, then there is a wealth of SVG cutting files you may download to create your designs. Cutting files offer value for money. Furthermore, you may easily customize them to your individual requirements.
Alternatively, there are many sites where you may purchase ready-made Halloween heat transfer designs. Ready-made transfers provide a cost-effective solution and save a great deal of time.
Have fun with your crafting! Create something unique for you and the family as you embrace the most spooky time of the year.
Featured image is "Halloween Shirt" by edenpictures and is licensed under CC BY 2.0
Last update on 2022-06-25 at 10:28 / Affiliate links / Images from Amazon Product Advertising API